FOCUS
50-STATE GOVERNMENT AFFAIRS REGULATORY AND LEGISLATIVE TRACKING & REPORTING
FOCUS is the premier 50-state strategic consulting and information services firm. Specialized services include regulatory and legislative tracking & reporting, coalition & association management, issues management, government affairs department audits, public policy research, and a 50-state and global lobbyist network.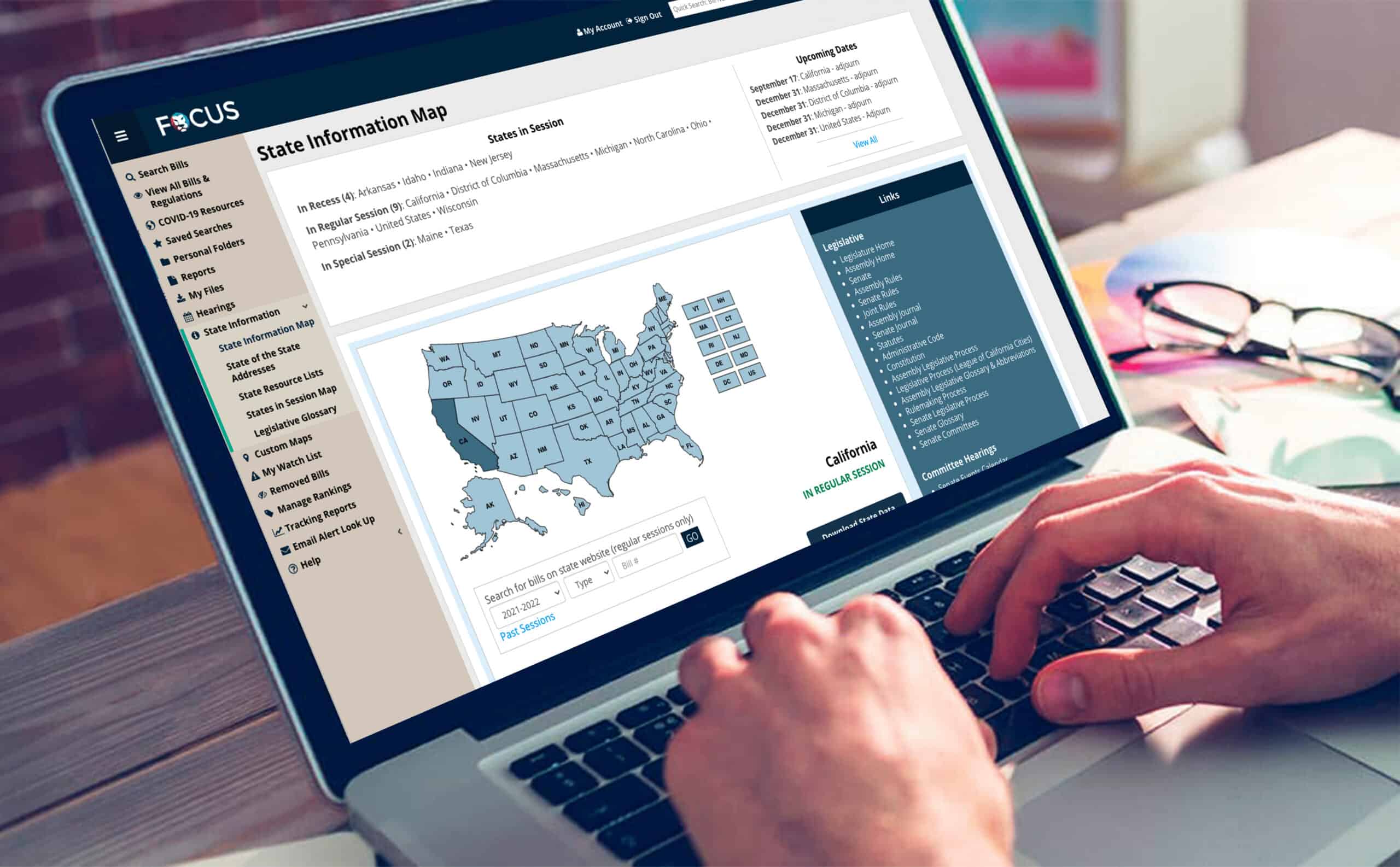 50 STATE REGULATORY AND LEGISLATIVE TRACKING AND REPORTING
BEYOND REGULATORY AND LEGISLATIVE TRACKING, WE CREATE A PATH BACKED BY THE INDUSTRY'S BEST ANALYSTS
FOCUS LEGISLATIVE and REGULATORY TRACKING is the premier legislative and regulatory monitoring service tailored to meet the needs of fast-moving organizations. We give you the tools and information needed to navigate policy landscapes in all 50 states, U.S. Congress, D.C. and Puerto Rico.
COALITION AND ASSOCIATION MANAGEMENT
COHESIVE ADVOCACY AND ORGANIZED ASSOCIATIONS
With our experience, network and proven track record, we are the full service solution you need to start a new trade association, manage an industry coalition or improve the effectiveness of an existing government affairs organization. LEARN MORE
STRATEGIC CONSULTING AND RESEARCH
THE INSIGHT. THE ENERGY. THE RESULTS.
The FOCUS consulting team includes highly-skilled professionals with decades of government relations experience. We assess public policy issues and their business implications and provide you with the strategic and political context needed to manage key issues and make informed decisions. We partner with top companies or trade associations to build or rebuild state government affairs departments to increase efficiency and effectiveness. Some areas of expertise include:
PUBLIC POLICY RESEARCH & REPORTS
BUILDING GOVERNMENT AFFAIRS DEPARTMENTS
GOVERNMENT AFFAIRS DEPARTMENT AUDITS
50-STATE AND GLOBAL LOBBYING
PROFESSIONAL LOBBYING NETWORK AT YOUR FINGERTIPS
If your organization needs to deploy strategy on-the-ground, FOCUS provides clients with a free lobbyist referral service that will match your organization with the lobbyist best suited to tackle your issues. We know multiple firms in every state and we directly connect our clients with the best firm. Our FOCUS team also manages The Advocacy Group (TAG), a global network of top-notch lobbyists and public affairs specialists that can help you effectively navigate the public policy challenges you face in every state, the U.S Congress and internationally.
SEE WHAT PEOPLE ARE SAYING
I HAVE WORKED CLOSELY WITH THE PROFESSIONALS AT FOCUS FOR MORE THAN A DECADE AND HIGHLY RECOMMEND THE FOCUS TEAM FOR ANY ORGANIZATION SEEKING LEGISLATIVE TRACKING, MULTISTATE ISSUE ANALYSIS AND COALITION AND ORGANIZATION MANAGEMENT. THE PROFESSIONALISM, TALENT, CREATIVITY AND POSITIVE ATTITUDE OF THE ENTIRE FOCUS TEAM CONTINUES TO SHINE WHILE MANAGING OUR GROUP, EXCELLING EACH DAY AND CONSTANTLY EXCEEDING OUR EXPECTATIONS.
PRINCETON PUBLIC AFFAIRS GROUP